Benefits Of Chew Toys For Dogs - Here's All You Need To Know In 2022
Feb 15,2022 | FunnyFuzzyUKTeam
We all know that dogs can be extremely cranky at times, and at that moment, they love to feast on your expensive furniture and favorite fittings, which drives your nerves crazy. It is the instinct of dogs to bite on things when they get bored, or anxiety hits them rock bottom. In such circumstances, you have to save your temper and bring something indestructible that diverts their attention from your precious gear.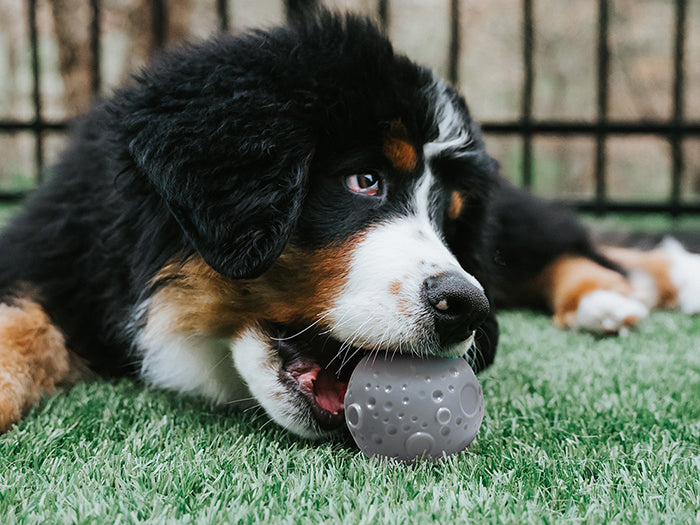 Dog chew toys can save the day! They can serve as a wholesome activity for your dogs or puppies. The merits of having chew toys are innumerable, some of which include:
Eliminating bad breath
Helps teething puppies
Keeping away periodontal diseases
Freezes out destructive behavior
Helps in learning and training sessions
Disengaging anxiety and stress
Safe and reliable to chew
We will dig into each of the benefits in detail to gain an insight into the perks discussed above.
Due to the displacement of plaque and accumulation of bacteria, your dog can develop bad breath, which is also called halitosis. This can be adverse and disturbing at the same time; however, one simple prevention of bad breath is to chew toys as they restrict plaque from piling up and locking bad odor, giving your fresh dog breath.
2. Helps Teething Puppies
Teething puppies can experience extreme discomfort because of the growing teeth pressure on their gums. The attractive and appealing puppy chew toys can secure this as they not only grasp the attention of puppies but also strengthen the gums, promoting teeth growth.
3. Prevents Gum Diseases
Periodontics is an inflammatory condition of gums that is caused by the deposition of plaque. Chew toys can be used in such cases as a preventive measure. It wears off the plaque and helps your dog's gum stay healthy and stiff. The added gratuity is that the dogs who chew toys are observed to have whiter teeth.
4. Freezes out calamitous behavior
Aggressive behavior and barking can be a sign that your dog is under anxiety, boredom, or maybe having a panic state. This can result in destructive behavior, and your furniture becomes the victim. Chew toys are the most creative article to absorb your dog's aggression, and if you have a range of indestructible chew toys, it can keep your dog occupied for a longer time.
5. Helps In Learning And Training Sessions
Chew toys with specific shapes can be very handy during training sessions and activate the learning process. Using different chew toys with variable colors and shapes during different steps of the session can help your dog remember the directions as they associate the toy with a particular command. This helps your dog better understand the instructions and builds a bond between you and your dog.
6. Disengages Anxiety and Stress
Dogs often get overwhelmed with emotions. Like the way they get excited seeing their favorite human, they get anxious when they don't get attention or when they are bored. Chew toys can be beneficial to keep your dog occupied and elevate its mood. Dogs easily get along with the toys they like, and the appealing chew toys can make them feel at home and give them a strong sense of security.
7. Safe And Reliable To Chew
Safety always comes first concerning the health of your dog. Anything detrimental should never come in contact with your dog. Chew toys are designed in such a way that they are neither too soft to cause frustration nor too hard to cause an injury. Chews toys are non-degenerative and easy to clean, which makes them a reliable option to keep your dog happy, healthy and busy all the time.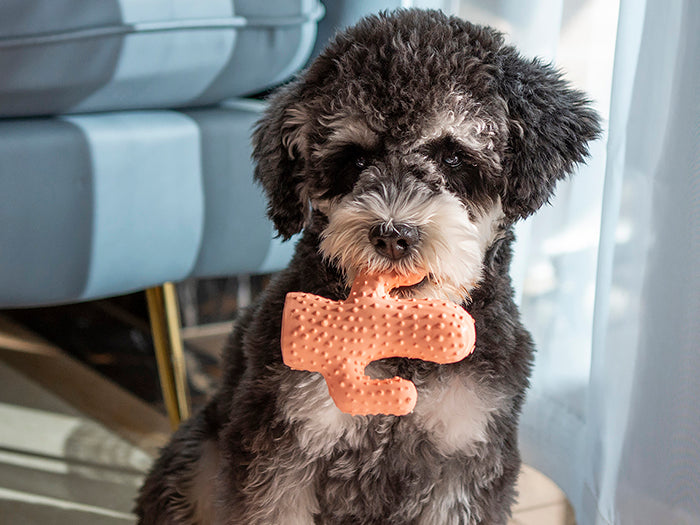 Our Favorite Chew Toys For Dogs
Our favorite picks for your dog are featured to attract your dog's attention with beautiful shapes and convenient sizes. Some of these cherished toys include:
1. Fruit squeaky chew dog toy
It is a multicolored dog toy with a squeaker inside, which produces a high-frequency sound safe for your dog and helps him get familiar with the toy by getting used to the toy squeak. It has a cavity for dry food and treats that help control feeding and make your dog drool over the toy! This toy is easy to clean durable with practical learning aspects.
2. Cosmos Feeder Training Ball Dog Toy
This toy is a cumshaw for your dog. It is spherical, bouncy, and has a cavity that can hold the treat. It can be an interactive toy as you can play chase and fetch with your dog and help your pooch engage in a healthy activity for a longer period. It is non-toxic and safe to chew.
3. Cactus Shaped Squeaky Dog Toy
It is an adorable chew toy that not only looks enticing but is also scented. It can be used as a fun playtime partner, available in four lovely colors. It has an anti-microbial coating ensuring your dog's safety.
4. Pink Squid Squeaky Plush Dog Toy
This can be the friendly-looking squid from the ocean that can be your dogs' best friend. It has a squeaker inside, and a cord for teeth care. It not only looks bewitching but also brings out the urge to play.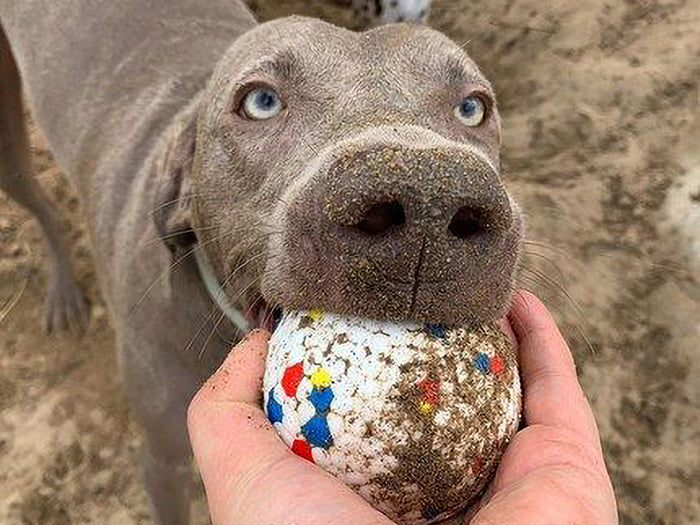 Final Thoughts:
Chew toys can be your accomplice and very convenient at home or even when you are traveling with your dogs. It helps them to respond positively, hearten their sense of bonding, remember when to behave, and can be a source to kill boredom with excitement and fun. It is not possible to always stick around your dog or pups in these busy times, but chew toys can serve as a mate for your dog, making them feel relaxed and comfortable.
Chew toys are aseptic, hygienic, and innoxious for your dog. Leaving your dog with a bone, stick, or any other object is not the safest option; instead, get your dog multiple sweet chew toys as it is a worthy and long-time investment that you will never regret!
Comment