The Ultimate Checklist For A Car Trip With Your Dog
Feb 25,2022 | FunnyFuzzyUKTeam
When the weather blesses us with beautiful days, it gives us the perfect excuse to pack our things and hop in our cars for a refreshing road trip adventure. Road trips are always fun and become more so when you take your cutest little friend with you. After all, your dog also deserves to enjoy and sniff in the fresh open air.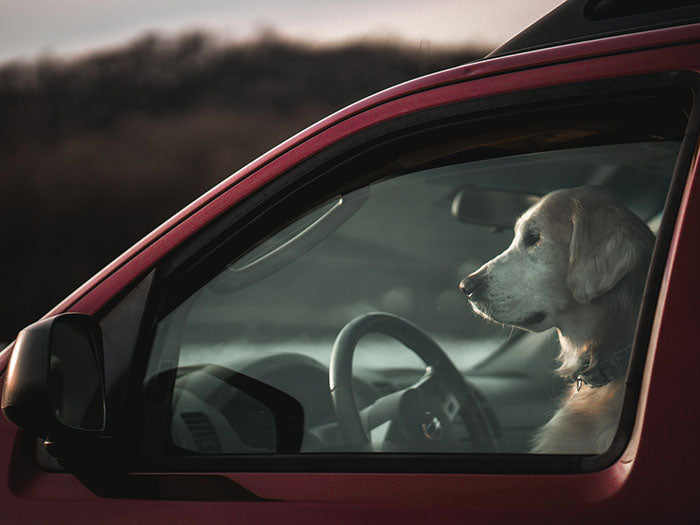 Worried about how you will manage a car trip with your dog? Well, a stress-free vacation is possible even with a dog when you carefully plan and are fully equipped to address all their possible needs on the road. Check out our checklist to avoid any mishaps on the road when you have your precious friend with you.
Basic Essentials for a Road Trip with Dog
Once you are all ready to rock and roll, don't forget to pack a bag with all the dog essentials. Here are some important things to take care of beforehand:
Vaccination Records and Health Certificates Up-to-date vaccination cards and health certificates are extremely important when you are out with your pet on a road trip. Some hotels and places might ask for medical records, so keep both electronic and paper medical records along with a health certificate provided by a certified veterinarian (for long and country-wide trips). A health certificate is valid for up to 30 days. So, make sure to have one with you as it is pretty handy when you run into an emergency on the road.
Also, keep your vet's contact number with you in case you need professional guidance on the way.
Pet's Favorite Food, Water, and Treats
Whether you have a single-day trip or a week-long vacation, you need to keep extra dog food and favorite treats in case things get delayed due to any emergency. According to pet nutritionists, pet parents should keep their dog's favorite food with them instead of experimenting with new food they come across the roads as it can be unhealthy, and the dog may not like it.
Also, keep pet-friendly ginger chews with you if your pet gets car sick. It will help with nausea and upset stomach. If you are afraid your pet will experience extreme car sickness, ask your vet for a medication to use in an emergency.
Apart from your pet's favorite food items, your need to have enough water because, like you, your dog also needs to be rehydrated.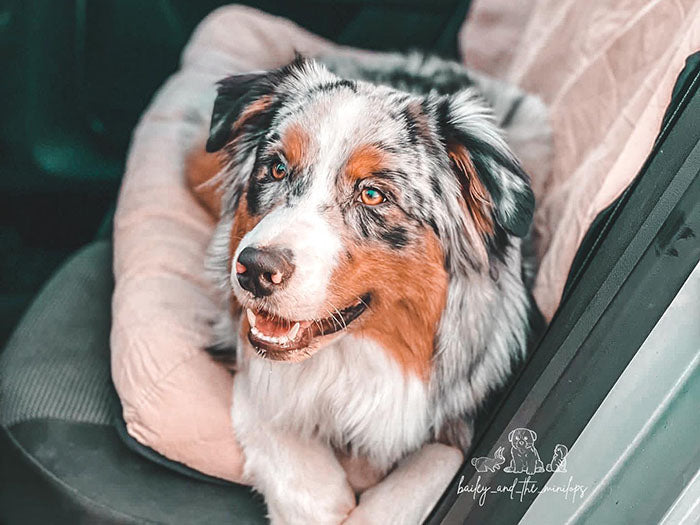 Safety Restraints Seat Covers and Blankets
One very important thing to enjoy a safe trip with your dog is to have a safety restraint seat cover installed. These covers provide a dedicated space for your dog and keep them intact in a comfortable position, protecting them during sudden turns or emergency situations. You can find these seat covers in different shapes, sizes, and colors, so pick the one that works best for your dog.
One important item to make your dog comfortable during the trip is a dog blanket. The blanket will keep your dog warm, especially if it is a night car trip, and make him feel cozy and comfortable like home.
Collar, Leash, and Tags
It's a car trip or a walk; you should not go out with your dog without a collar and a leash. These two essentials are extremely important to avoid any unfortunate mishap and control and keep an eye on your dog. Similarly, you must have an updated ID tag around your dog's neck so you can be contacted easily in case you lose your dog. Funny Fuzzy has a wide collection of beautiful and high-quality dog collar leashes and tags to make your outdoor trips with your pet safe and enjoyable.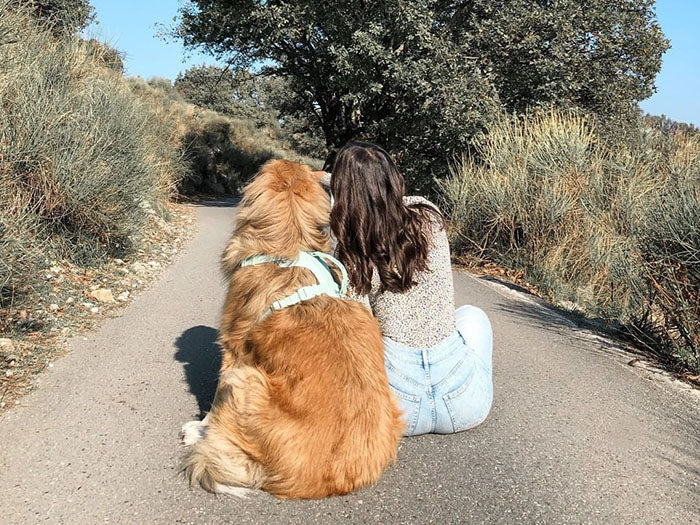 First Aid Kit
A first aid kit is a must to deal with minor injuries, nicks and remove ticks and foxtails. Similar to humans, pets are also irritated by noisy insects. Your kit must contain flea and tick repellants, especially if you plan to spend more time outdoors. Fill your first aid box with supplies that not only cater to humans but also dogs.
Quick Packing List
Other than the above-stated items, keep the following items in your bag to keep your dog happy and entertained all the way.
• Poop bags
• Travel crate or carrier
• Extra collar with an ID tag to allow others to contact you in case you get separated from your dog.
• Grooming supplies and some towels
Safety Tips for the Road
No matter how well equipped you are for your trip, you need to abide by certain protocols and look out for yourself and your dog on your journey. Here are some valuable tips for a safe car trip with your dog.
Properly Crate Your Dog while Driving
Never leave your pet unsecured in the car, especially when the car is on the move, as a sudden stop or turn can be dangerous for them. A crate offers a safe space for dogs in the car and allows you to focus on the road completely. Select a crate well suited to your dog's size and attach it firmly to the back seat or car floor.
Pay Attention to the Car Temperature
If you think your dog will be fine with all doors and windows closed, you are wrong. They are at a high risk of getting overheated while in the car. So, you need to make sure that the car temperature is neither too cold nor too hot for your pet.
Stop for Bathroom and Water
Just like you, your dog has to be relieved. You might be fine with long drives, but your dog needs to rehydrate or empty his bladder quite often. So stop in every few hours to avoid any mishap in the car. Also, this allows your dog to stretch and break out of the car boredom.
A car trip with your dog can be an incredibly fun adventure but only when you have all the right supplies and are fully prepared to deal with your pet dog's requirements on the road. As important as the supplies we mentioned above, the last tip is to be patient with your dog.
Comment