What Is the Best Dog Lead for Your pup?
Feb 03,2022 | FunnyFuzzyUKTeam
Want to know how to buy the best dog lead for your pet friend?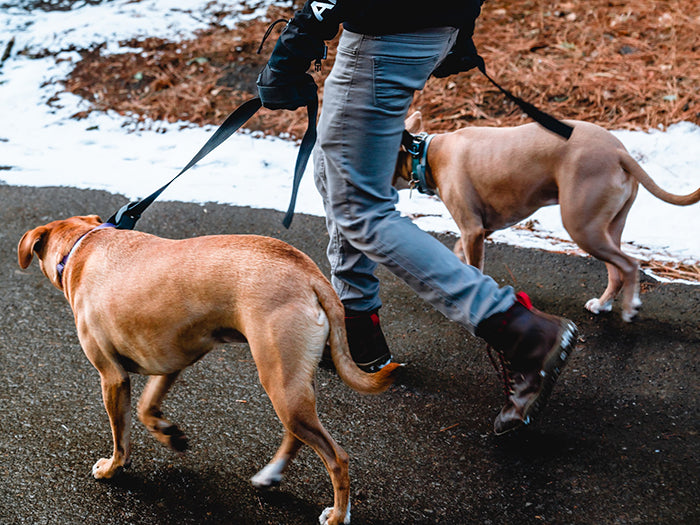 A dog owner understands the significance of selecting an appropriate lead for the safe handling of their dog. A good dog lead can make a tremendous difference, whether teaching the pet a specific skill or simply enjoying a peaceful walk in the park without fear of losing your precious canine friend.
But not all leads perform the same for every dog. Lightweight leads are best for small pups, whereas you will need a firmer grip for the larger ones like German Shepherd or Tibetan Mastiff. The variety doesn't stop here; you might be amazed to know that dog leads also come with shock absorption and hands-free features for a better and stress-free experience. You can also get a dog lead that works as a dog seat belt, such as this super-cute 6 in 1 hands-free sport multifunction lead from Funny Fuzzy.
From material to style and purpose, there is a lot a pet owner has to consider carefully when buying a lead for the dog. To make things easier for you, here is a detailed guide to help you understand why you need a lead and how you can find a perfect one for your dog.
Why You Need a Dog Lead?
A lead is an essential tool needed from the early days. It assists in controlling your pet and managing them efficiently while training and in public.
Besides, a dog lead is legally compulsory in most places worldwide when you are out in public. The reason for this regulation at public places like parks, malls, etc., is the risk of accidents if an owner loses a dog. The dog lead gives adequate control and protects from unfortunate incidents.
Furthermore, the dog lead can serve many other benefits such as:
The training sessions become effective and easier with a suitable lead.
It prevents mishaps that can cause injury or confusion.
Keeps a dog safe from running between the vehicles and getting injured.
Stops the dog from scaring children, other animals, and people.
It lets you tie your dog when you can't attend them temporarily.
How to Choose a Dog Lead Most Suitable for Your Puppy?

Now that you know it is an accessory you cannot live without, the next and most crucial step is to invest in the best dog lead and choose from a plethora of products available in the market and online. Here are some important factors you must consider before heading out to buy a lead for your dog.
Standard Dog Lead
The best dog lead is durable, affordable, and looks stylish but is also functional.
The standard lead is ideal for basic training and light walks around the corner. They are usually made of nylon, leather, or sometimes cotton and rubber. Nylon and leather are the best materials due to their durability and toughness. Both materials are lightweight but robust enough to hold even the more muscular dogs firmly.
Their general length ranges from 4 to 8 feet, with 6 feet being the most common. The standard length gives freedom to your dog to enjoy their time out while giving you the upper hand to keep them under control. However, you must check the quality and durability of the material.
Retractable Dog Lead
This lead gives your dog freedom of movement by allowing varying lengths. It is more like a measuring tape with a nylon cord that usually measures from 4 to 30 feet. It comes with a locking mechanism to quickly lock it at different lengths. Retractable leads are popular, but you have to be careful of rope burns and the chances of strangulation when using a retractable lead.
Adjustable Leads
Adjustable leads come in handy where standard and retractable leads fail. They can be adjusted without any uncomfortable tugging all the time. It gives firm control and freedom at a reasonable adjusted distance.
These adjustments range from 3 to 6 feet and some extra loops and clips. You can shorten it for training and loosen it when out in public.
Hands-Free Dog Lead
Are you an enthusiastic runner who loves to take their dogs on their little adventures? If yes, this lead is best for you. These hands-free leads can be strapped around the waist, giving you freedom for outdoor activities or holding your phone or coffee on brisk walks. Some popular styles that hands-free dog leads come in include crossbody, waist belt, bicycle, and convertible.
Before buying these affordable belts, consider the durability and shock absorption of the belts. It must have adequate sizing adjustments and gliding clips on them.
Tips to Choose the Best Lead
Before indulging in shopping for a dog lead, ask the question yourself 'what the main function do you want the lead for.' Are you going to use it for everyday use or only when hiking and camping in the wild? Or is it for command training your puppy?
Lead for Command Training
The leather lead of 6-foot gives firm control and has a suitable weight for handling. It doesn't give the rope burn like a nylon lead. You will need a 30 to 50-foot long line for teaching distance commands.
Lead for General Use
As mentioned earlier, the 6-foot Nylon and leather leads make the best dog lead. From adequate freedom of movement to giving complete control to the owner, the 6-foot lead is enough for any dog owner. However, it's better to avoid materials like cloth or rubber as these are not as durable as nylon and leather.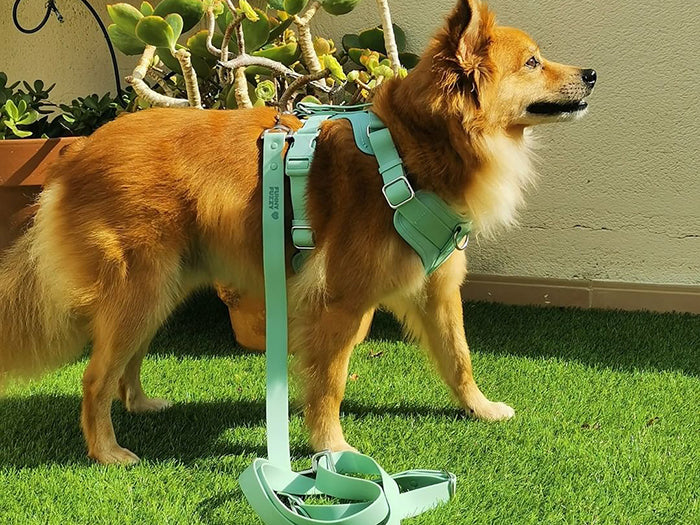 As all dog leads are created to meet different requirements, understand which one will fit your dog. So, when hunting for the best-suited lead for your dog, try different leases and check their functionality according to your dog's size and behavior.
If you have an active, playful dog, do not settle for anything less than a high-quality material and enhanced durability, such as this super-durable 6 in 1 hands-free sport multifunction lead from Funny Fuzzy.
Comment